projector II
New!
Premium
Bluetooth Speaker
Adjustable
Brightness & Speed
Blue Star &
Improved Projection
Vivid. Stunning. Immersive.
A galaxy projector that changed many things. After more than 3 years of research and development and hundreds of rigorous tests, GAIA GALAXY II succeeded in shattering limitations.

Sleek and distinctive, it packs groundbreaking technologies to deliver an intense lightning experience, the kind you feel in your bones and in your soul, for real.
BUY NOW
Aesthetic. Minimalist. Limited Edition
In crafting GAIA GALAXY II's overall look, we focused on function and an obsessive attention to detail. Some call it French savoir-faire and art de vivre. We view this as honoring craftsmanship and pleasure equally.

Beyond its iconic shape, GAIA GALAXY II is the Special Limited Edition in Prussian Blue and Copper Rich, with scratch-resistant materials, and finishes that can stand out or blend in.

You now have every excuse to treat yourself to the most premium galaxy projector in the world.
Sensational. Activate the 6 Senses.
With a focus on high-end and ultra-minimalist design, GAIA GALAXY II is superior to many galaxy projectors out there. It offers more vivid colors, larger projection and supreme MusicSense™ where lights beat with music from any external speaker.

You'll be immersed in an alternate universe of constellations, nebulae and crashing ocean waves. Its starry cloud will rotate around your space like the quiet underwater waves to give you a soothing and calming day and night time experience.

Designed with next-gen technology in Australia, GAIA Galaxy II features advanced light therapy with therapeutic waves of movement and built-in Bluetooth speaker that allows you to immerse yourself in your favorite playlists.
Illuminate the potential of any space.
This minimalist compact device instantly brings Zen to your home and creates a magical and calming space that has a timeless aesthetic. It adapts your room to any mood or occasion, whether it's a celebratory night with your friends and families or a cozy night with your loved ones, whether it's for meditation and dreamtime or just star-gaze. The possibilities are endless.

With unlimited inspiring lighting modes, Gaia Galaxy Projector II offers the beauty and wonder of the Milky Way to all ages.
Transform your home into a relaxing paradise
All the power of the universe at your fingertips. GAIA GALAXY II comes complete with its dedicated remote to help you take full control of your light and music.

Now, just sit back and float in the galaxy!
BUY NOW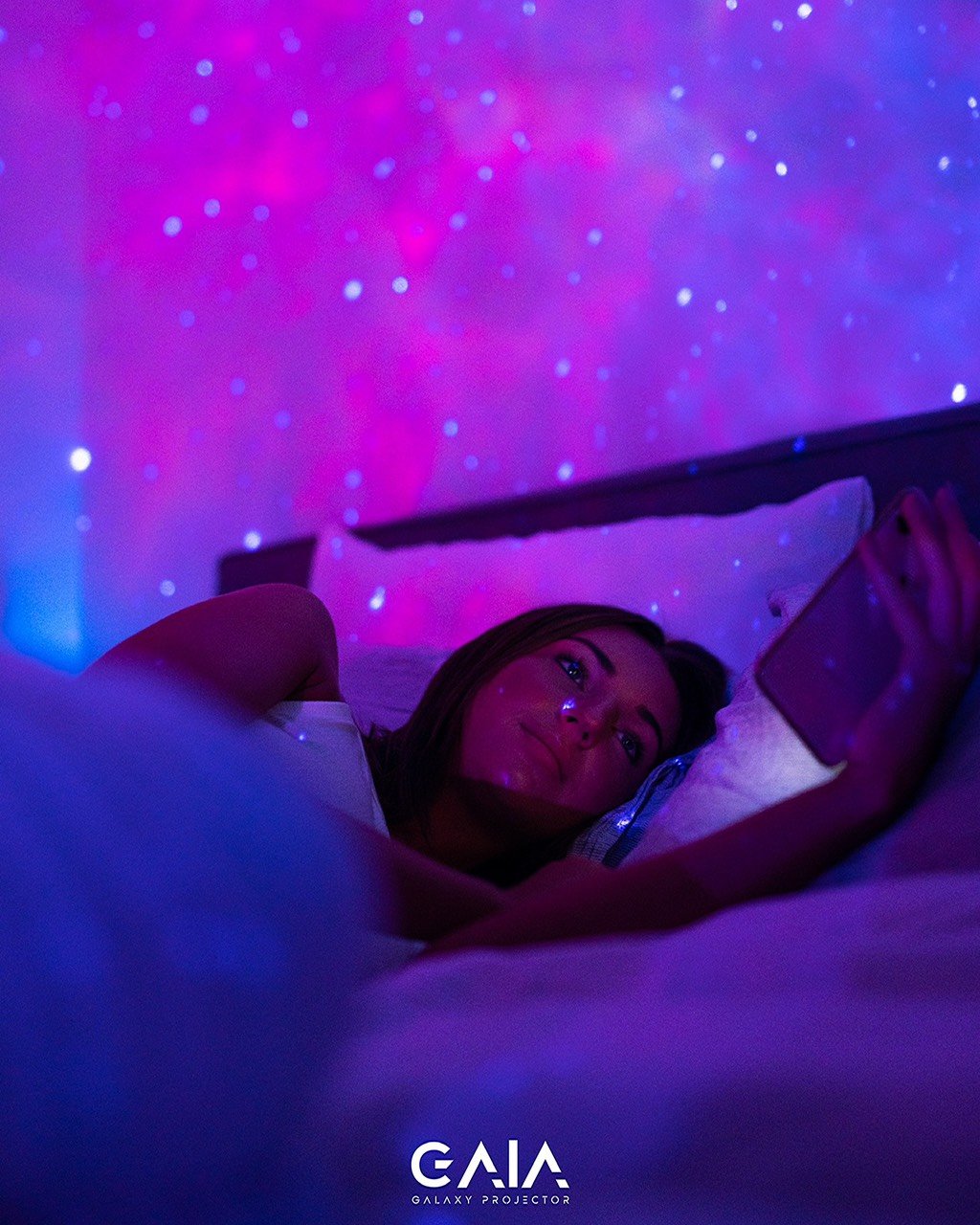 GAIA Galaxy Projector II - World's Most Premium Galaxy Projector
Gaia Galaxy Projector
Built-in Bluetooth Speaker & Advanced MusicSense™
Next-gen Light Therapy™: calming blue stars, unlimited color options, improved projection quality with therapeutic waves of movement
Appropriate and certified safe for the whole families
12-Month Warranty and 30-Day Money Back Guarantee
Supreme scratch resistance & minimal aesthetic
Remote control: toggle on/off moon/stars/nebula, adjust brightness/speed/star patterns, color modes, music (perfect before sleeping!)
Energy efficient & producing no heat
Other Galaxy Projectors
No Bluetooth Speaker or MusicSense™
Lower quality projections.
Plastic lenses & limited color options
Not child and pet-friendly
No warranty or quality guarantee
Bland & uncreative design & low-quality materials
App Control with high EMF effects and invasive permissions to your phone's data by the so called convenient high tech projectors
Not energy efficient while producing some heat
Shipping
DELIVERY TIMES (Business Days) -Australia: 1-5 Days -New Zealand: 5-10 Days -United States: 5-10 Days -UK & Canada : 7-12 Days ( Europe (Germany, Spain, Italy, France, Sweden, Denmark, Belgium, Luxembourg, Austria, Netherlands): 7-13 Days -Rest of Europe: 7-21 Days -Rest of the World: 7-21 Days Rest assured we will do everything in our power to ensure your ordered is delivered as soon as possible. Your parcel will be left in a secure place, however please ensure you are available upon delivery. The buyer holds all responsibility for stolen, or lost delivery as a result of input of wrong shipment information. Please double check your shipping address is correct before confirming your order. Once you have placed your order, you are committing to the sale and declaring that all information entered including the shipping address is correct.
Authenticity
As a premium global brand we are wildly popular around the world. GAIA Galaxy is the original name people trust for the world's top-rated galaxy projector. We are aware that there are several websites and companies selling counterfeit GAIA Galaxy Projector; and branding our creation as their own.

While our Legal Team is aware of this issue, we highly advise against purchasing from such websites as the quality and authenticity of these counterfeit products are compromised. We combat counterfeiting to safeguard our relationship with you and give you the best possible experience. Avoid disappointment by trusting the best and getting the original GAIA Galaxy Projector.