projector
New!
Premium
Bluetooth Speaker
Adjustable Speed
& Brightness
Sensational. Simply breathtaking.
With the help of authentic high-resolution NASA satellite 3D imagery, for the first time ever you can bring the magic of the heavens into your home.
Buy now
Have you ever seen the Milky Way galaxy?
Did you know? One-third of humanity and 80% of Americans, according to scientists, can no longer see the Milky Way.

Inspired by Japanese minimalism and designed in Australia, GAIA Galaxy Projector is created to change that, by bringing the beauty of the universe much closer.
Bring the wonders of the Universe to your home
As human beings, we have deep connections to the stars that extend back to the dawn of humanity. With just the touch of a button, miraculous GAIA Galaxy Projector gives you the daring power to transform your dream into a breathtaking reality.

We're on a journey to bring back the wonders of the sparkling night sky that has been lost due to the light pollution in cities.
Essential & immersive mental-reset vibes
You'll be immersed in an alternate universe of constellations, nebulae and crashing ocean waves. Its starry cloud will rotate around your space like the quiet underwater waves to give you a soothing and calming day and night time experience.

Designed with next-gen technology, magical GAIA Galaxy Projector features advanced light therapy with therapeutic waves of movement and built-in Bluetooth speaker that allows you to immerse yourself in your favorite playlists.
Beyond lightning.
It's an experience
This minimalist compact device instantly brings Zen to your home and creates a magical and calming space that has a timeless aesthetic. It adapts your room to any mood or occasion, whether it's a celebratory night with your friends and families or a cozy night with your loved ones, whether it's for meditation and dreamtime or just star-gaze. The possibilities are endless.

With unlimited inspiring lighting modes, Gaia Galaxy Projector offers the beauty and wonder of the Milky Way to all ages.
Buy now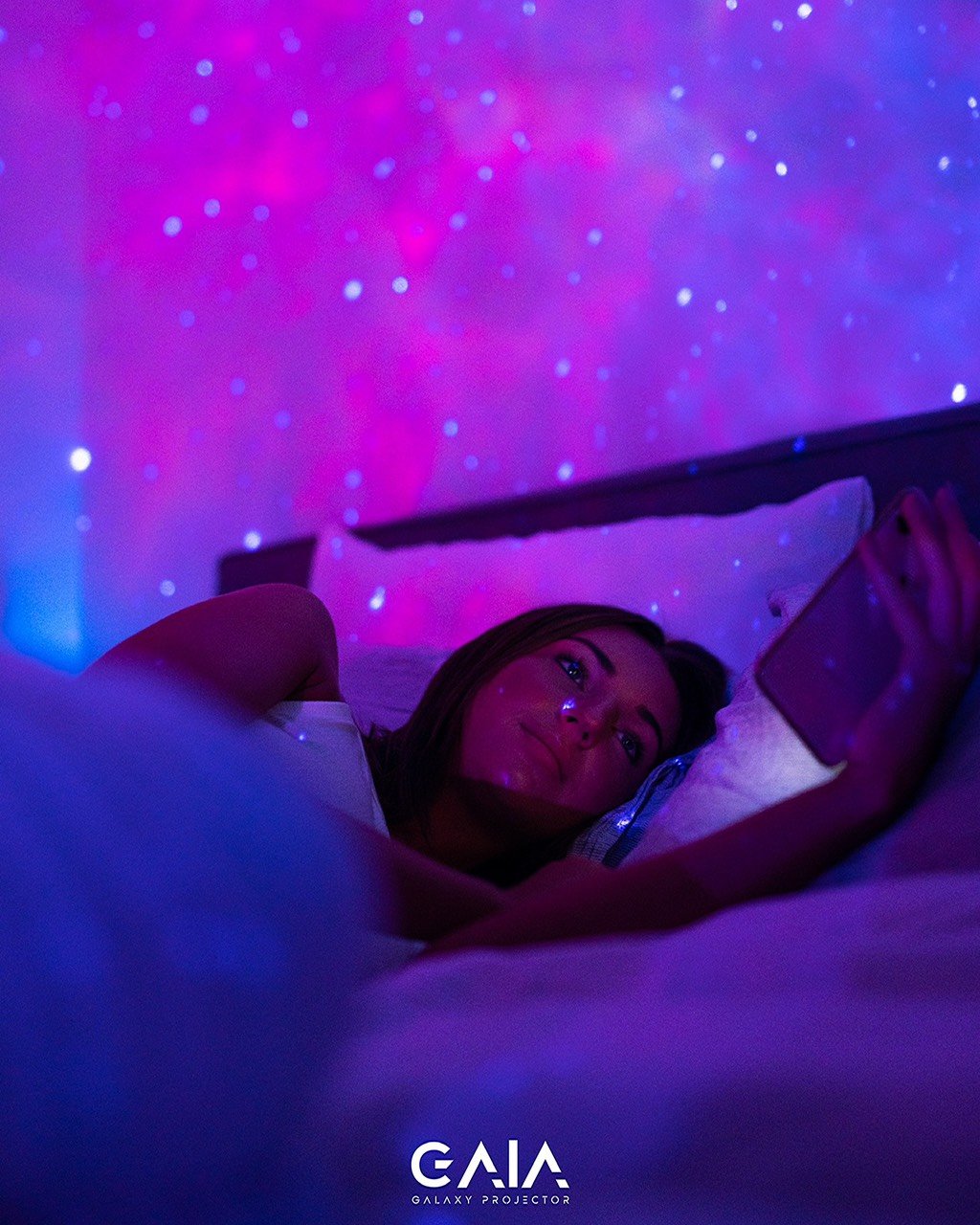 GAIA Galaxy Projector II - World's Most Premium Galaxy Projector
Gaia Galaxy Projector
Built-in Bluetooth Speaker & Internal MusicSense™
Next-gen Light Therapy™: green stars & improved projection quality
Appropriate & safe for the whole families
12-Month Warranty & 30-Day Money Back Guarantee
Undeniably minimalist and sleek design
Customize your mood and timer settings (perfect before sleeping!)
Unlimited color options with vivid colors
Other Galaxy Projectors
No Bluetooth Speaker or Music Sense
Low-grade projection quality with plastic lenses
Not child and pet-friendly
No warranty or quality guarantee
Bland & uncreative design with low-quality materials
App Control with high-frequency EMFs & invasive permissions to your data
Limited color options with dull colors
Authenticity
As a premium global brand we are wildly popular around the world. GAIA Galaxy is the original name people trust for the world's top-rated galaxy projector. We are aware that there are several websites and companies selling counterfeit GAIA Galaxy Projector; and branding our creation as their own.

While our Legal Team is aware of this issue, we highly advise against purchasing from such websites as the quality and authenticity of these counterfeit products are compromised. We combat counterfeiting to safeguard our relationship with you and give you the best possible experience. Avoid disappointment by trusting the best and getting the original GAIA Galaxy Projector.