New!
Line
RGB, Generation II
Available color range
Twinkly Line is a self-adhesive + magnetic, slim, smart LED light strip perfect for bringing color and endless moods to any room in your home. With an all-black finish, bright and colorful LEDs, and the smallest cross-section profile on the market, Twinkly Line is a cool – yet discrete – decorative lighting device. Like all Twinkly products, Line can be mapped and every single LED can be controlled individually, allowing you to create and reproduce unique effects, gradients, and color animations – Line becomes your screen.
Where to buy
Điều chỉnh độ sáng
Tốc độ
Wi-Fi
connect

Miniaturized system of chips for remote control

Bluetooth
connect

One tap for configuring multiple products

IP44
weatherproof

For outdoor and indoor use
Product details
| | |
| --- | --- |
| Year's model | 2021, Generation II |
| Indoor/outdoor | IP20 (indoor only) |
| Controller features | Bluetooth, WI-Fi |
| Num. of lamps | 90 |
| Lamp lens type | |
| Lamp diameter | |
| Lamp spacing | |
| Led | RGB — Red, Green, Blue (+16 million colors) |
| Electric wire | Black wire |
| | |
| --- | --- |
| Lead length | 2m / 6.5ft |
| Lighted length | 1.5m / 5ft |
| Adater input V | 120V - US | 240V - EU/UK max 50/60Hz |
| Adapter output V | 15W (5V ⎓ 3A) |
| Warranty | 1 year |
| Long life span | Over 30000 hours |
| | |
| Pack dimension | (20x18x5) cm / (7.87x7.09x1.9)' |
| Package includes | 1 strip+controller, 1 adapter, 1 quick guide |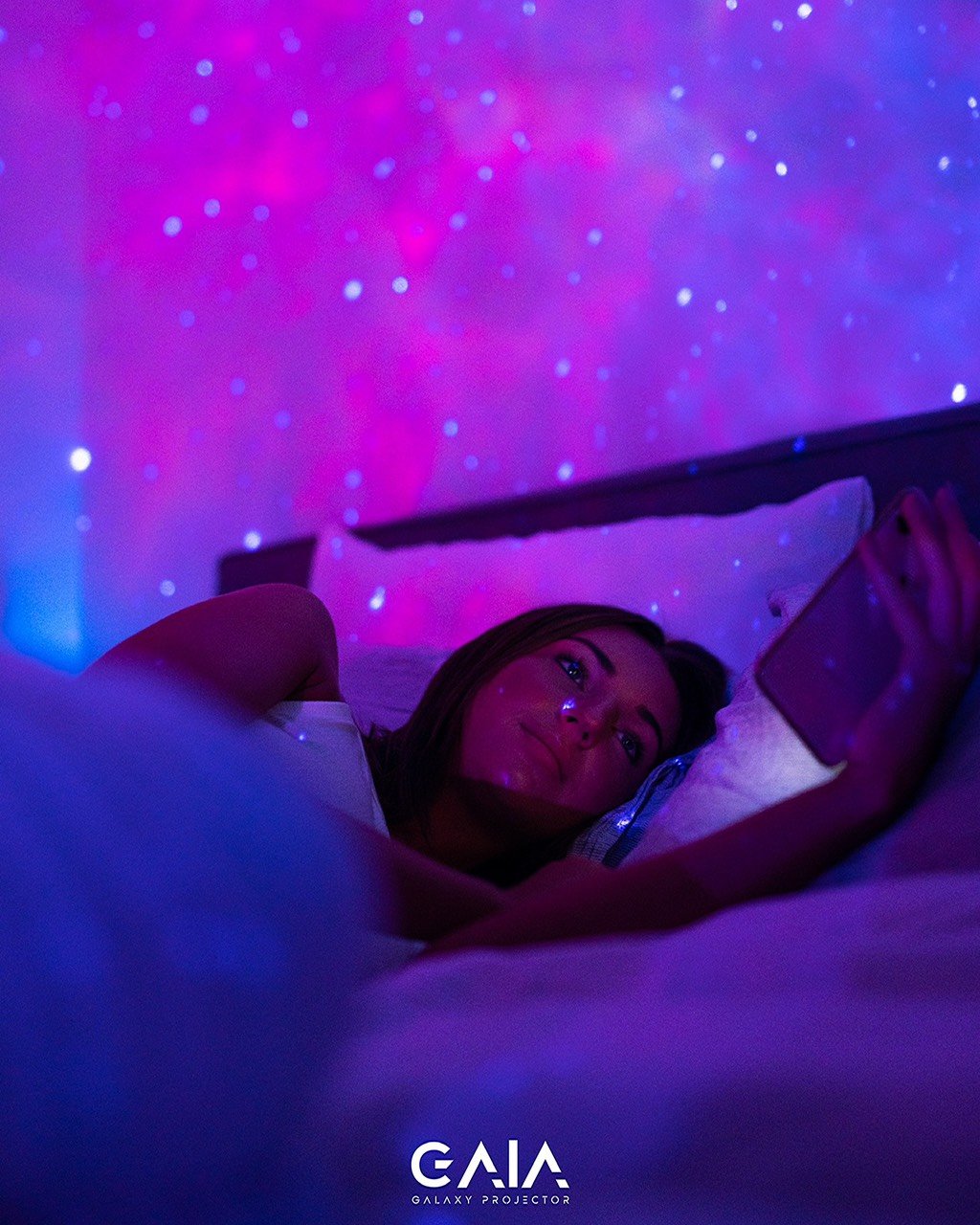 GAIA Galaxy Projector - Máy Chiếu Thiên Hà Được Xếp Hạng Tốt Nhất Thế Giới
Gaia Galaxy Projector
Tích hợp loa Bluetooth và tính năng hẹn giờ tự động
Thích hợp và an toàn cho cả gia đình
Điều khiển từ xa: điều chỉnh độ sáng, tốc độ, âm nhạc…
Bảo hành 12 tháng và đảm bảo hoàn tiền trong 30 ngày
Liệu pháp ánh sáng trị liệu hiện đại: Chất lượng chiếu được cải thiện và thấu kính thủy tinh chất lượng cao
Kết hợp tối đa nhiều màu sắc để phù hợp với mọi tâm trạng
Other Galaxy Projectors
Không có loa Bluetooth và không có tính năng hẹn giờ tự động
Không thân thiện với trẻ em và vật nuôi
Điều chỉnh kém linh hoạt
Không bảo hành
Chất lượng chiếu thấp hơn và thấu kính nhựa
Tùy chọn màu sắc hạn chế
projector
Sensational. Simply breathtaking.
With the help of authentic high-resolution NASA satellite 3D imagery, for the first time ever you can bring the magic of the heavens into your home.
Buy now
Have you ever seen the Milky Way galaxy?
Did you know? One-third of humanity and 80% of Americans, according to scientists, can no longer see the Milky Way.

Inspired by Japanese minimalism and designed in Australia, GAIA Galaxy Projector is created to change that, by bringing the beauty of the universe much closer.
Bring the wonders of the Universe to your home
As human beings, we have deep connections to the stars that extend back to the dawn of humanity. With just the touch of a button, miraculous GAIA Galaxy Projector gives you the daring power to transform your dream into a breathtaking reality.

We're on a journey to bring back the wonders of the sparkling night sky that has been lost due to the light pollution in cities.
Essential & immersive mental-reset vibes
You'll be immersed in an alternate universe of constellations, nebulae and crashing ocean waves. Its starry cloud will rotate around your space like the quiet underwater waves to give you a soothing and calming day and night time experience.

Designed with next-gen technology, magical GAIA Galaxy Projector features advanced light therapy with therapeutic waves of movement and built-in Bluetooth speaker that allows you to immerse yourself in your favorite playlists.
Beyond lightning.
It's an experience
This minimalist compact device instantly brings Zen to your home and creates a magical and calming space that has a timeless aesthetic. It adapts your room to any mood or occasion, whether it's a celebratory night with your friends and families or a cozy night with your loved ones, whether it's for meditation and dreamtime or just star-gaze. The possibilities are endless.

With unlimited inspiring lighting modes, Gaia Galaxy Projector offers the beauty and wonder of the Milky Way to all ages.
Buy now